25 MPs and several House staff test Covid positive
NEW DELHI: Twenty-five MPs and several staff members of Parliament tested positive for the novel coronavirus on Monday, the first day of the monsoon session, with some members announcing their status and one even denouncing the tests as inaccurate.
Anyone entering Parliament House complex had to be Covid-negative. Tests conducted between September 12 and 13 returned positive in the case of 17 Lok Sabha and eight Rajya Sabha MPs on Monday while the number for staff could not be ascertained.
Among Lok Sabha MPs, 12 were from BJP, two from YSR Congress and one each from Shiv Sena, DMK and RLP. Among the eight Rajya Sabha MPs who tested positive, two each were from Congress and BJP and one each from AIADMK, AAP, TRS and AITC.
Sources said 56 people tested positive during the RTPCR tests conducted in the Parliament House complex. These included mediapersons deputed to report proceedings. RLP MP Hanuman Beniwal, however, rubbished the report on his "re-infection" and called it "false". He said he had tested positive in August and had recovered, and that two RT-PCR tests had shown him as having recovered.

Opposition petitions President against farm bills: Top developments
NEW DELHI: Rajya Sabha was adjourned sine die on Wednesday, eight days ahead of the scheduled end of the Monsoon session, amid concerns of spread of coronavirus among lawmakers. Rajya Sabha chairman M Venkaiah Naidu said the House had to hold 18 sittings but it held only 10.
Naidu said the 10-day session was productive and as many as 25 bills were passed and six were introduced.
Opposition members were boycotting the proceedings after eight members were suspended after ruckus in the House on Sunday during passage of farm bills.
Here are the top developments:
Lok Sabha adjourns sine die; Monsoon session ends
LokSabha was adjourned sine die on Wednesday evening, bringing the Monsoon session of Parliament to an end eight days ahead of schedule, due to the coronavirus pandemic.
The session started on September 14 amid the coronavirus pandemic.
Speaker Om Birla adjourned the House sine die after the passage of the Major Port Authorities Bill.
Opposition parties request President not to give assent to farm bills
Opposition parties have requested President Ram Nath Kovind not to give his assent to the contentious farm bills, and conveyed to him that their passage in Rajya Sabha was "unconstitutional", Ghulam Nabi Azad said.
The government should have consulted all parties, farmer leaders before bringing the farm bills, Azad said after meeting the President.
"The Constitution was undermined …We have given a representation to President that the farm bills have been passed unconstitutionally and he should return these bills," Azad said.
Naidu expresses anguish at 'unpleasant turn of events'
Rajya Sabha chairman M Venkaiah Naidu said it is "extremely unpalatable" when bills are passed amid a boycott of proceedings by some sections of the House, but not taking up legislative work in such a situation may legitimise their action as an "instrument of blocking legislation".
He was speaking before adjourning the Upper House sine die, eight days ahead of schedule, due to the Covid-19 pandemic.
"This kind of situation needs to be avoided by all means," Naidu said in his remarks on the conclusion of the 252nd session of Rajya Sabha.
Parliament passes 3 key labour reform bills
Parliament approved three key labour reform bills that will remove impediments to winding up of companies and allow firing of staff without government permission in firms with up to 300 workers from the existing 100, a move aimed at attracting more investments and job creation.
Rajya Sabha passed by voice vote the three labour codes on industrial relations, social security and occupational safety amid a boycott by opposition parties, including the Congress and the Left, over the suspension of eight MPs.
With passage of these three bills, 29 central labour laws have been codified into four broad codes as contemplated by the government under labour reforms to improve ease of doing business and providing universal social security to workers as well.
Javadekar slams opposition for staying absent from RS
The absence of opposition members from the house when the bill that assures wage, social security and health security to fifty crore labourers is being brought shows they are distanced from public, said Union minister Prakash Javadekar.
"73 years after independence, labourers are getting the right they had been waiting for. The Bills guarantee wage, social and health security. When a Bill that assures wage security, social security and health security to 50 crore labourers has been brought, the Opposition is absent because they are distanced from the public," Javadekar said.
Parliament passes Jammu and Kashmir Official Languages Bill, 2020
Parliament passed a Bill for inclusion of Kashmiri, Dogri and Hindi in the list of official languages in the Union territory of Jammu and Kashmir, in addition to the existing Urdu and English.
The Jammu and Kashmir Official Languages Bill, 2020 was passed by Rajya Sabha through voice vote. Lok Sabha had cleared the legislation on Tuesday.
Minister of state for home G Kishan Reddy said it was a long-standing demand of the people of Jammu and Kashmir that the language they speak should be included in the list of official languages.
Rajya Sabha returns two Appropriation Bills
Rajya Sabha returned the Appropriation (No 3) Bill, 2020 and the Appropriation (No 4) Bill, 2020, authorising payment of certain sums from the Consolidated Fund of India for the current financial year.
The bills, which were passed by Lok Sabha on September 19, were cleared in the Upper House with a voice vote and without any discussion.
Finance minister Nirmala Sitharaman moved the Bills for consideration and passing.
Opposition parties conduct silent protest march
Various opposition parties took out a silent protest march in the Parliament complex against the contentious farm bills passed recently.
The protesting MPs carried placards with messages such as "Save Farmers, Save Workers, Save Democracy" during their march from the Mahatma Gandhi statue to the Ambedkar statue on the premises. They also stood before Gandhi's statue in a line.
Members of the Congress, Trinamool Congress, CPI, CPI-M, DMK, Rashtriya Janata Dal, Aam Aadmi Party, Samajwadi Party and the NCP participated in the protest.
Parliament passes FCRA Amendment Bill
Parliament passed a bill to amend the Foreign Contribution (Regulation) Act to make furnishing of Aadhaar numbers by office bearers of NGOs mandatory for registration, with the government asserting that the proposed legislation is aimed at transparency and not against any NGO.
Amid Opposition boycott of proceedings over suspension of eight MPs, Rajya Sabha unanimously passed the bill.
Replying to a debate on the bill, Minister of state for home Nityanand Rai said the legislation was not against any NGO and is an effort to maintain transparency.

Covid roundup: PM reviews situation in worst-hit states, Oxford vaccine trial in US & more
With spike of 83,347 cases, India's Covid-19 tally crosses 56-lakh mark
With a spike of 83,347 new cases and 1,085 deaths in the last 24 hours, India's Covid-19 count stood at 56,46,011 on Wednesday. India's Covid-19 death toll stands at 90,020. Maharashtra continues to be the worst-affected state in the country with 2,72,809 active cases 33,407 deaths while Karnataka
BJP used former Bihar DGP to malign Maharashtra: Congress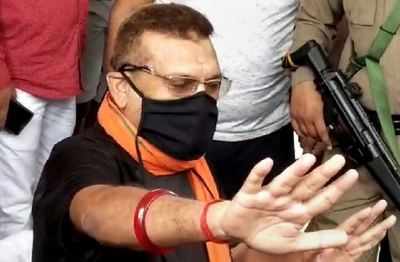 Former Bihar DGP Gupteshwar Pandey, who has taken voluntary retirement from service, arrives to address a press conference, in Patna, Wednesday, Sept. 23 (PTI)
MUMBAI: The Congress on Wednesday accused the BJP of using former Bihar director general of police (DGP) Gupteshwar Pandey to defame Maharashtra, and said he was now being "rewarded".
While Pandey has dismissed speculation that his 'political ambitions' prompted his actions or statements in the Sushant Singh Rajput death case, the Maharashtra BJP dubbed the state Congress's allegations as "baseless".
"The Bihar DGP who was used for this defamation is being blatantly rewarded. His voluntary retirement says it all," said Maharashtra Congress spokesperson Sachin Sawant here.
While a government officer has to give three months' notice before resigning, Pandey's resignation was accepted immediately, he said.
"He is expected to be rewarded," Sawant said.
The BJP had no sympathy for actor Sushant Singh Rajput but sensed a political opportunity to use his death for the coming Bihar elections and now for the proposed new film city in Uttar Pradesh, he claimed.
"The Sushant case has now been cast aside. There is a new narrative about an alleged Bollywood-drugs nexus. Drugs nexus is a pretext but the real reason is (they want) to control and arm twist the film industry," the Congress spokesperson alleged.
The Congress has no objection to the Narcotics Control Bureau probing the drugs angle in the Rajput case, he said.
"NCB has an office in Mumbai, why didn't it probe it earlier? No arrest was made by the NCB in the FIR related to Sushant Singh Rajput death case. All arrests were made in the alleged drug consumption case which has nothing to do with the death case," he said.
The Union government stated in Parliament that the NCB had no actionable inputs to link the Mumbai film industry with drugs, the Congress spokesperson said.
Speaking to reporters in Patna earlier in the day, Pandey dismissed allegations linking his alleged pro-active stand in the Rajput case to political ambitions.
While in Delhi, Shiv Sena MP Sanjay Raut alleged while speaking to a Marathi newschannel that "he ran a political agenda and is going to be rewarded for it".

FacebookTwitterLinkedinEMail